We're organizing a 2-day Zig meetup in Milan (Italy) on April 9-10. Andrew has already booked his plane ticket so you should expect him to be present alongside other core devs and active members of the community.
Why call it a meetup and not a conference?
We don't have a lot of time to organize it and so you should expect it to look more like a meetup than a proper conference.
The schedule for a conference is normally entirely comprised of talks. Meetups tend to have more time dedicated to socialization and the same will hold true for this event. There will be some presentations, but there will also be plenty of time for other -- more interactive -- activities.
What's the schedule?
I will post the schedule as we get closer to the date in April. Both days will begin at around 9am and end at around 6pm. Social dinners will of course be a possibility.
What is the location?
The meetup will be held in Milan, Italy. You can expect it to be somewhere in the city center, not too far from a metro station. I will need some time to scout for available places (also based on how many people will sign up). I'm aiming for a place that can host us with also space for tables, not just chairs. If by any chance you're reading this and know or, even better, own a similar place in Milan, please do reach out!
When choosing an hotel, you should not worry too much about staying super close to the meetup location, as long as you have a metro station close by. I expect the meetup location to be somewhere in the proximity of the blue area: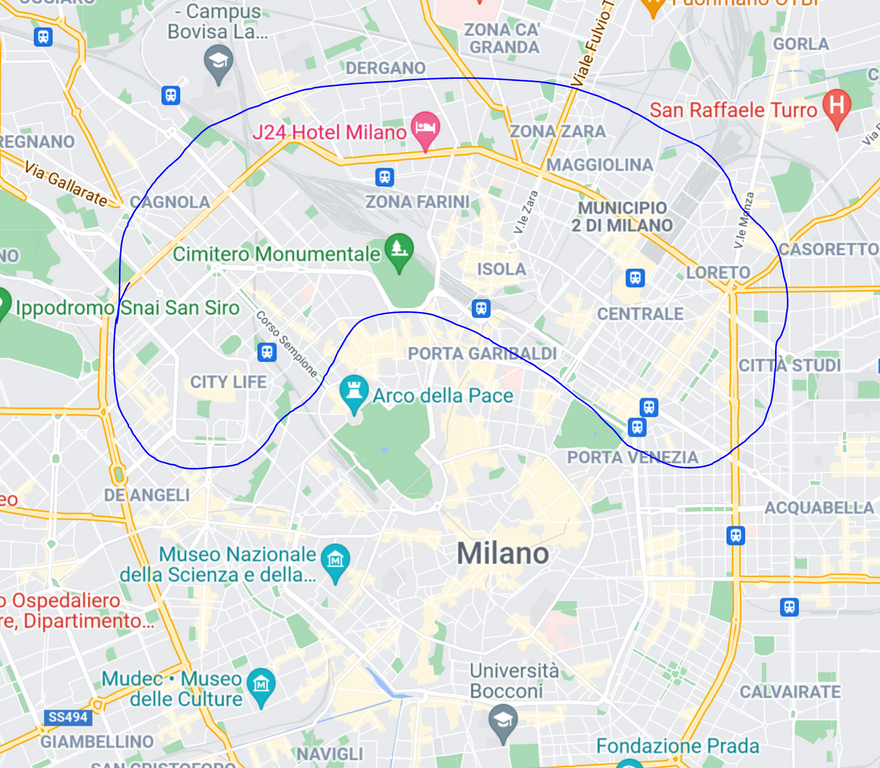 What covid restrictions are in place in Italy?
Flight
As of the moment of writing travelers coming from outside of the European Union will need to present a negative PCR test done less than 72h (48h for UK) from arrival and will need to wear an FFP2 certified mask on both flights. If you're coming from outside of the EU make sure to double check requirements specific to your country.
Accessing services
Everybody needs to be fully vaccinated. Travelers outside the EU who own an equivalent certification (eg USA) can come but will need a negative PCR test if their last shot was done earlier than 6 months before the event. In such case the same test from the flight could suffice if done right before departure. Refer to this page for more information.
Masks
As of the moment of writing, Italy requires the usage of masks when staying indoor in places accessible to the public. This includes shops, the meetup location and also public transport. In the case of public transport there's one extra restriction: the mask has to be FFP2 certified.
Updates
As April grows closer, make sure to keep yourself up to date with new developments in terms of restrictions. There's also a reasonable chance that some restrictions might be relaxed a bit by April.
How do I get to Milan?
Milan has two main airports: Malpensa (MXP) and Linate (LIN). Malpensa has fast trains that connect it to Milan, while Linate is even connected to the metro system. There's also a third airport that could be reasonably selected as destination for your inbound flight: Bergamo Orio al Serio (BGY), but it is more further way than the others and you will need to take a bus to reach Milan. The order by which I introduced these airports can be considered a list from best to worst choice. The train ticket from Malpensa to Milan costs approx 12eur.
How do I get around in Milan?
Walking, electric bikes/scooters and, most importantly, public transport, especially the metro system. You can use contact-less payment (including Apple Pay et simila) with the metro system, or you can opt for the more traditional paper ticket, in which case you will need to decide which type of ticket to get (the contact-less payment system does that automatically based on usage). The same ticket works for metro, bus and tram systems. The baseline ticket lasts 90mins and costs 1.50eur. Beware that most public transport shuts down around midnight.
Uber is not a thing in Italy so, if you plan to use a taxi service, be ready to spend more than what an Uber would cost you.
Who's going to pay for this event?
In the last ZSF board meeting we agreed to reserve 10k USD for travel and community events in 2022. The money spent for this event will come from that bugdet.
Any suggestion for tourists?
There's plenty of stuff do to in Milan and it's also a good "advanced base" for more travel through Italy. You can get a train for Venice and be there in 2h30m. Firenze takes 2h, while Rome takes 3h30. If you want a shorter trip that you can do in half a day, it's one train stop (15m) from the central station to reach Monza.
Ok, I'm convinced, what's next?
If you're interested and think you can make it, please fill out this form before Sunday 13th of March to allow me to gauge the level of interest.
After that date I will finalize logistic decisions and then I will contact via email all who have expressed interest to ask for final confirmation.
...wait is this a lan party?
Yes, no, maybe. Bring your own computer anyway though.